Basilian Life
Community and Prayer Life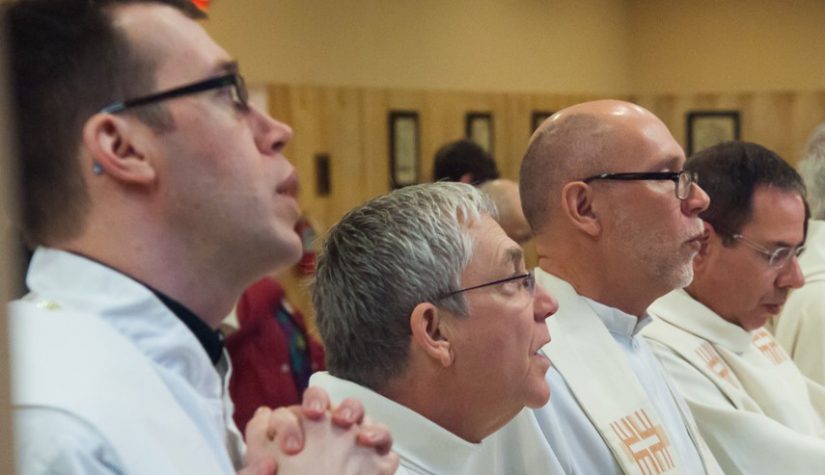 photo credit: www.marcnealphotographer.com.
The Basilian Way of Life is based on a life of community and prayer, and centered on the Eucharist. We are called to live with our confreres in an expression of the communal nature of the Church and our commitment to each other as brothers. The heart of Christian life for Basilians is the local house where we live together in brotherhood; and as brothers we worship, eat, and recreate together, not in a spirit of mere conformity but striving to be united heart and soul like the early Christian community.
Community life exists not only in the local houses, but throughout the whole Congregation, where it is reflected in a sense of fellowship with what all Basilians are doing, an interest in the past and the future of the Community, and a willingness on the part of both individuals and local communities to make the sacrifices that will be necessary for the common good.
Both as individuals and as communities we try to recognize that the Father, Son, and Spirit dwell in us and call us to share their life. Prayer is the necessary response to this call. The people to whose service we are called count on us to give continual praise and thanks to the Father for all He has done and to make intercession for each other and for all of those in our care. Without real prayer on our part, the life and work to which we are called will be beyond our capacity.
One expression of our prayer is public worship. In each of our houses this consists in the daily offering of the Eucharist and morning and evening prayers according to the Liturgy of the Hours. In the celebration of the Eucharist, all Christians are brought together in unity by the Holy Spirit. For this reason, we celebrate it whenever possible with each other, as well as with those with whom we work.
Perhaps the best description of Basilian spirituality is as a hybrid between diocesan and religious prayer and work. Because the Basilians were founded by ten diocesan priests who came together out of necessity during the French Revolution, our spirituality finds its life in both the work of the apostolate and the love of God experienced in the community.
In practice, Basilian spirituality is much like that which is found in the Book of Sirach, for we believe that all aspects of life can lead a person to God. This is why we are not just teachers of religion but of all disciplines whether they are languages, sciences, humanities, athletics, and so forth.
Each of these, when used out of love and for the betterment of our community, convey the love of God for the world. Basilians believe that spirituality is not limited to our churches and theological discourse but is lived out in every thought that manifests itself in the world.