Basilian Life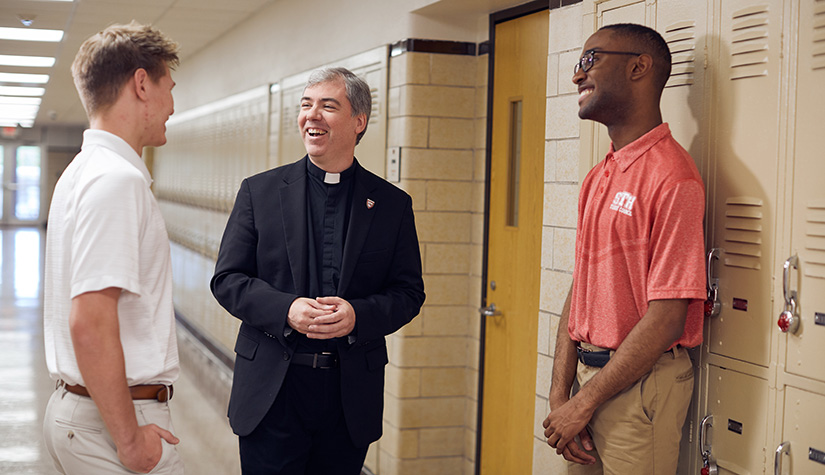 Our mission of Christian education and evangelization is lived out in our high schools, colleges and universities, parishes, and missions' apostolates. The earliest work of our Congregation was that of Christian education and evangelization, and we remain a teaching community today. Our service to God is made real through our teaching and our dedication to sharing knowledge. This has led to the formation of many relationships with educational institutions at the secondary and post-secondary levels.
We have adapted ourselves to serve God's people in many branches of education and research – especially in high schools, colleges, universities, graduate studies and publications – as well as in other forms of priestly work, particularly in parishes, campus ministry, and missions. Whatever apostolic work we do, we are doing a single work of service, 'building up the Body of Christ.'
During the course of his lifetime, a Basilian priest is likely to serve the people of God in a variety of ways, and in a variety of places, since the work of evangelization and education is quite diverse. Basilians not only teach and administer high schools and universities, but also serve as missionaries, parish priests and pastors, hospital chaplains, licensed counselors and therapists, retreat directors, peace-keepers, and more.
As the Church continues to evolve, our Congregation recognizes the need to listen to those who are willing to propose new apostolates or adaptations to present ones. This involves reaching out to the people of God in different ways and using both traditional and newer communication methods. We also recognize that the building up of the Body of Christ is not our task alone, but one that we share with all of our brothers and sisters in Baptism.