About Us
Our Charism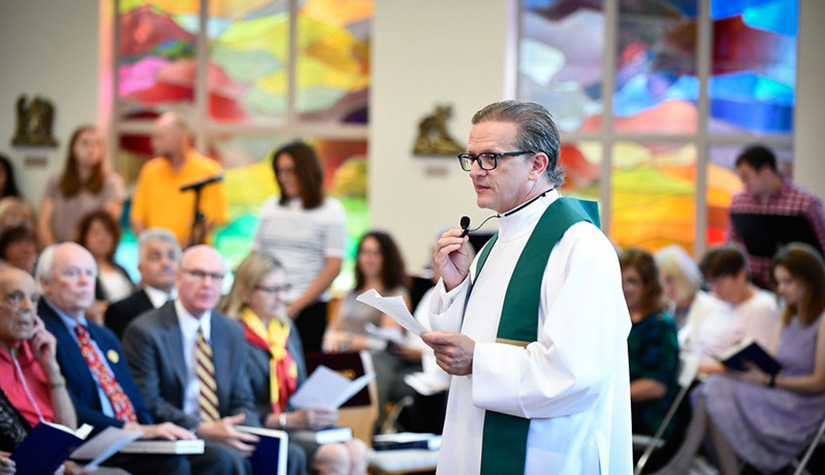 photo courtesy of St. John Fisher College
A Basilian's dedication to education in teaching and evangelization is lived out in all aspects of his life. Our gift of teaching is easily seen in the classroom, but also comes through in our parish homilies. Parishioners often say that when Basilians speak from the pulpit they can sense that they are listening to a teacher, as they bring their experience and passion for the subject matter and Jesus Christ to the liturgy. Education is a valuable tool for evangelization because furthering our knowledge of all of God's creation brings people to Him.
As scholastics, Basilians earn the Master of Theology degree, and priestly ministry offers plenty of opportunities to further their education. Many Basilians go on to obtain doctorate degrees and professional accreditations.
Basilian priestly ministry today, however, doesn't involve as much work in the classroom as it had in the past, but the Basilian presence within our schools is felt through their roles in administration and on boards of directors. In these positions, Basilians are able to immerse the institutions in Basilian culture that is defined by a liberal arts curriculum offering a wide array of subjects, a focus on developing the whole person, and service to God and others. Our schools often assume the Congregation's motto: teach me goodness, discipline, and knowledge, as their own. For Basilian institutions, these aren't just words to be written in a student handbook. Instead they are taught and lived daily by our administration, faculty, and students. From these positions, Basilians touch the lives of many as graduates of Basilian schools go on to make a difference in their communities and world.