Four Basilians Celebrate 200 Years of Combined Priestly Ministry
December 2, 2020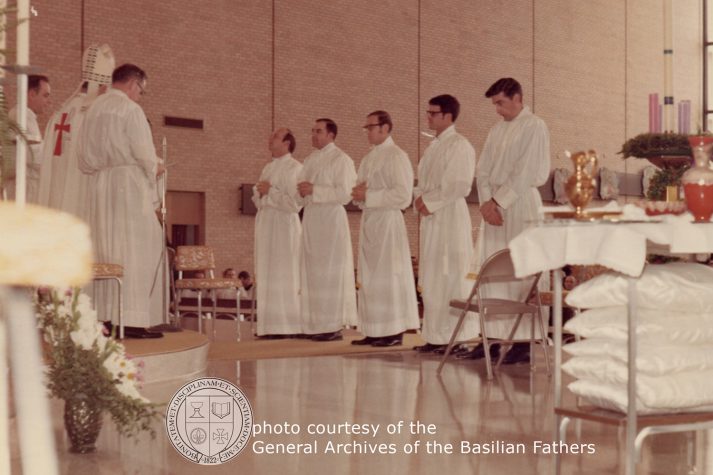 This month, four Basilians are celebrating their golden jubilee of ordination. Father Philip Acquaro, CSB, Father David Klein, CSB, Father Paul O'Connor, CSB, and Father David Sharp, CSB are each celebrating 50 years of ministry as Basilian Fathers.
Father Acquaro, Father Klein, and Father Sharp were ordained on December 5, 1970 in St. Scholastica Church in Detroit, Michigan by Bishop Walter Schoenherr. All three began their priestly ministry teaching at Detroit Catholic Central High School.
Father Acquaro went on to spend 15 years at Catholic Central including serving as the school's principal from 1980-1985. He holds a degree in Canon Law from the Catholic University of America and has served as a judge in the tribunals of the Diocese of Phoenix and helped on the Tribunal for the Eparchy of Van Nuys. He was the pastor at St. Thomas the Apostle Byzantine Catholic Church from 1990-2007 and has served as chaplain aboard cruise ships.
Father Klein continued in the high school apostolate by teaching at Andrean High School in Merrillville, Indiana; St. Pius X High School in Albuquerque, New Mexico; and Bishop O'Dowd High School in Oakland, California. He dedicated a number of years to the hospital ministry in the Archdiocese of Santa Fe where he would provide pastoral care for patients.
Father Sharp ministered in the Diocese of Phoenix where he was a member of the pastoral team at St. Anthony's Parish in Wickenburg, Arizona and was the campus minister and director of the Newman Center at Glendale Community College. He was awarded the Bishop Thomas J. O'Brien Award for Outstanding Contribution to Young Adult and Campus Ministry from the Diocese of Phoenix in 1990.
Father O'Connor was ordained to the priesthood on December 12, 1970 by Bishop Joseph L. Hogan in Sacred Heart Cathedral in Rochester, New York. He began his priestly ministry in the high school apostolate with appointments to the Aquinas Institute in Rochester, New York; Andrean High School; and St. Pius X High School. While teaching, he ministered at local hospitals. He had also served in the parish apostolate as pastor of St. Stephen's Byzantine Catholic Church in the Diocese of Phoenix.