Basilian Novices Profess First Religious Vows in Houston, Texas
August 10, 2020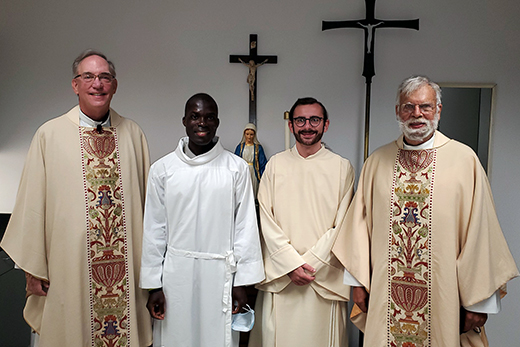 On Saturday, August 8, two Basilian novices professed their first religious vows in the Chapel of St. Basil at the University of St. Thomas in Houston, Texas. Sean Patrick Ajluni, CSB and David Francis Semivule, CSB pledged to live for three years in poverty, chastity, and obedience. The vows are a public commitment to religious life and were received by Father John Huber, CSB, second councilor of the General Council. The Profession of First Vows was witnessed by the Basilian Fathers of Houston and family and friends of Sean and David and many more tuned in online as the Mass was livestreamed through the UST Campus Ministry Facebook page.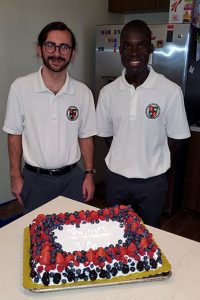 In his homily, Father Paul English, CSB, director of novices in the United States, described the novitiate year as blessed, revealing, and holy. The novices spent a year and a day, as prescribed by canon law, away from friends, family, work, and most things familiar to everyday life so that they may build a strong foundation of prayer and spirituality for the rest of their life as a Basilian. To grow spiritually and to discern God's call, the director of novices guides the novices in a program of scripture, liturgy, spirituality, theological instruction on the religious life and the vows, and study of the history, traditions and customs of the Congregation, and the Basilian Way of Life. The year can include apostolic works; however this was difficult amidst the COVID-19 pandemic.
The novices were gifted a coat of arms with the Congregation's motto in Latin as a symbol of the Congregation and Father English and Father Ted Baenziger, CSB, assistant director of novices, gave them a cross. Following the signing of the vows, those in attendance applauded the newly professed Basilian scholastics.