Basilian Novices Prepare for First Profession of Vows
August 6, 2020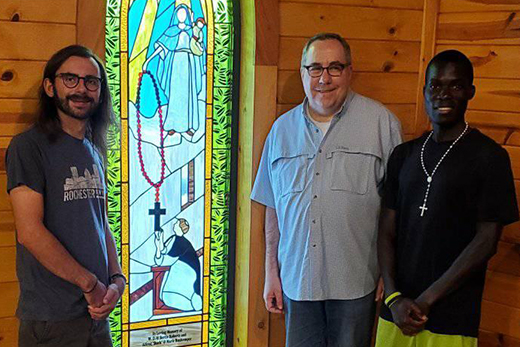 The Basilian novices in North America are on retreat this week in preparation for their First Profession of Vows on Saturday, August 8, in Houston, Texas. Members of the novitiate house are joined by Father John Markey, OP who is preaching at the retreat held at the Spiritual Renewal Center in the Diocese of Victoria, Texas. The schedule includes two conferences each day along with time for prayer, recreation, reading, and the Eucharist.
The Basilian novices reflect on their novitiate experiences:
"I am Sean Patrick Ajluni. I was born and raised in Metro-Detroit and I met the Basilians at Catholic Central High School. During this time, I fell in love with the Basilians. I was impressed with their love for the students, commitment to education and ability to guide the community through several tragedies. Upon graduation in 2015, I became a Basilian associate. As an associate, I lived and worked with Basilians in Rochester, New York; Toronto, Ontario; and Houston, Texas and found a home wherever I lived. I began my university education at the Franciscan University of Steubenville in Ohio. In 2017, I transferred to the University of St. Thomas to live in community with the Basilians. I plan to finish my degree in philosophy this fall semester. I have found the novitiate year to be challenging but fruitful. The novitiate and the confrères of Keon House have challenged me to grow and mature in ways I did not expect. As I reflect upon this year and see my growth, I feel more equipped to enter religious life. I am thankful to the Basilians who have accompanied me on this journey and am proud to join the community as a vowed member."
"I am David F. Semivule. I met the Basilians in Detroit and ever since, I have learned to live for and with others in a more Christian and loving way, and sharing my talents and gifts within this community for the common good. I have been taught to give up my own way in order to promote the common good. I have been received with warmth and love in my discernment with this community. The novitiate has been a time to let go of so much and depend on the providence from God, always relying on the support and prayers of this community. In summary, I am grateful to belong to this community."
The Mass for the First Profession of Religious Vows will take place on Saturday, August 8, 2020 at 10 a.m. CST in Houston, Texas and will be livestreamed at UST Campus Ministry Facebook page. Please pray for the Basilian novices as they take this next step in their formation journey.