St. John Fisher Celebrates Two 60th Jubilees of Ordination to the Priesthood
July 2, 2020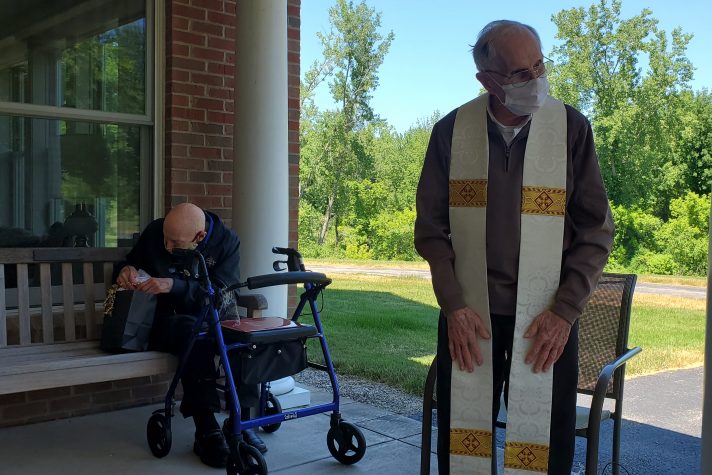 The St. John Fisher College community celebrated the 60th anniversaries of priestly ordination of two beloved priests who reside in Rochester, New York. On Monday, June 29, Father Al Cylwicki, CSB and Father Tom Dugan, CSB were visited by Father Kevin Mannara, CSB, campus minister, and Dr. Gerard Rooney, president of St. John Fisher College.
Dr. Rooney presented gifts to the Fathers of beautiful damask stoles embroidered with their names and anniversary date. Dr. Rooney also presented Father Cylwicki with a booklet of greetings from former students that was compiled by the College's Alumni Office.
Father Cylwicki spent over 20 years at St. John Fisher where he taught math, tutored in the Math Center, served as the assistant director of campus ministry, and served as a long-time member of the College's Board of Trustees.
Father Dugan was involved in parish ministry in Mexico for 50 years, where he ministered to the sick and delivered a successful program, 'Catequesis Familiar' to introduce families to the basic teachings of the Catholic faith.
Also celebrating their 60th anniversary of ordination to the priesthood this year are Father John Gallagher, CSB, Father Albert Gaelens, and Father Leo Walsh, CSB.