Father Eduardo Rivera, CSB Celebrates his First Mass
May 25, 2020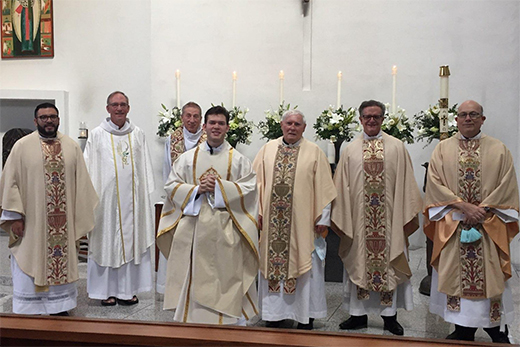 As the Church celebrated the Ascension of the Lord, Father Eduardo Rivera, CSB celebrated his first Mass at the University of St. Thomas in Houston, Texas on Sunday, May 24. Father Ignacio Olvera Ortiz, a priest with the Diocese of Dallas, gave the homily and shared a story of a student who connected the Ascension of the Lord into Heaven with Jesus working from home: a timely analogy when many are working and learning at home. He was joined by Basilian Fathers and men in formation from the local community in a private Mass to ensure social distancing. Many more were able to join in virtually as the Mass was streamed online through the UST Campus Ministry Facebook page.
On May 23, Father Rivera was ordained to the priesthood at St. Anne Church in Houston, where he has ministered for the past year as a deacon by presiding at weddings and graveside services, sharing in the sacramental life, and working with the RCIA program.
The Basilians wish Father Rivera many joyous years of service to God's people as he embarks on his priestly ministry. As a newly ordained priest, he will serve in campus ministry at St. John Fisher College in Rochester, New York.