Three Basilians Ordained to the Priesthood
January 13, 2020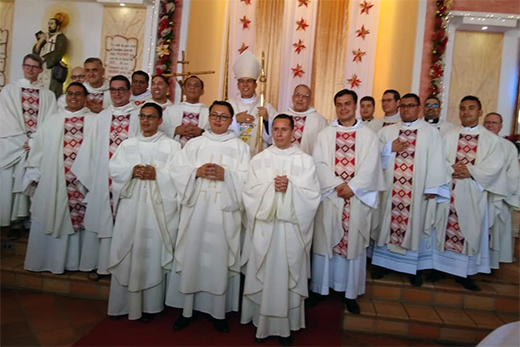 The Congregation of St. Basil celebrated its patron saint's feast day with the priestly ordinations of Father Carlos Rodríguez, CSB, Father Javier Higuera, CSB, and Father Eduard Padílla, CSB in Medellín, Colombia.
The ordinations took place in Parroquia San Basilio, which is situated on a mountain overlooking the city of Medellín, in the presence of their Basilian confrères, many of whom travelled to take part in the celebrations, including members of the General Council: Father Kevin Storey, CSB, superior general; Father John Huber, CSB; and Father Morgan Rice, CSB. Also in attendance were families and friends of each of the men and the parishioners of Parroquia San Basilio.
They were ordained by Bishop José Mauricio Vélez García, Auxiliary Bishop of Medellín and a close friend of the Basilian community in Colombia. In his liturgy, he spoke about how they are being ordained for the people and they need to be living what they are hearing in the ordination rite for the people's sake not just for their own. The Auxiliary Bishop also spoke to each new priest personally as they approached him at a number of points within the ordination rite.
The Mass was followed by a special lunch for the families of the newly ordained and visiting Basilians and refreshments for all in the plaza outside the church.
All three celebrated their First Masses at the Parroquia San Basilio: Father Rodríguez and Father Higuera celebrated on January 3 and Father Padílla on January 4. Each also had the opportunity to celebrate a First Mass in their home communities as well: Father Rodríguez and Father Padílla celebrated Mass at the Parroquia Santisima Trinidad in Arboledas, Norte de Santander on January 5 and Father Higuera celebrated at Parroquia Nuestra Señora del Perpetuo Socorro in Florida, Cundinamarca on January 5.
As scholastics, they attended the Universidad Pontificia Bolivariana in Medellín before they were ordained deacons in January 2019. As deacons they assisted the parish priests: Father Oscar Gomez, CSB and Father Robert Seguin, CSB, and provided outreach to the many young people who lived in the area.
Father Higuera has been appointed to Parroquia San Basilio in Medellín, Father Padilla will serve at La Parroquia de Nuestra Señora de la Asunción in Cali, and Father Rodríguez will be at Casa Annonay in Bogotá taking a course in the formation of young religious.
On January 1, at the Parroquia San Basilio's evening Mass, two Basilian novices, Osman De la Hoz Escorcia and Marlon Rincón Moreno, professed their first vows of poverty, obedience, and chastity, and two Basilian scholastics, Edilson Belisario Gómez Castañeda, CSB and Anderson Fabián Usuga Giraldo, CSB, renewed their vows for one year.
The vows were received by Father Storey and Father Rafael Lopera, CSB was the celebrant. Father Robert Barringer, CSB, director of novices, presented the novices and scholastics.