St. John Fisher College Campus Ministry Center Named in Honour of Fr. Joe Trovato, CSB
October 3, 2019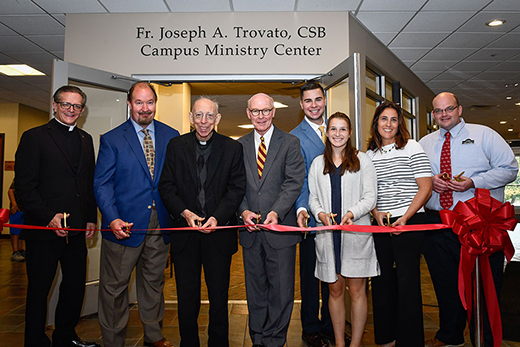 St. John Fisher College community recognized its longest-serving campus minister by naming its campus ministry center in honour of Father Joe Trovato, CSB. The official dedication took place on Sunday, September 22 during the College's annual Homecoming and Family Weekend in Rochester, New York. Mass was presided over by Father Ted Baezinger, CSB, and concelebrants: Fathers Joe Trovato, CSB; Kevin Mannara, CSB, director of campus ministry at Fisher; Al Cylwicki, CSB; Edward Heidt, CSB; Jim Murphy, CSB; Dennis Noelke, CSB; and Norman Tanck, CSB.
Following Mass, Basilian Fathers and St. John Fisher College alumni, students, and community members gathered in the Donald E. Bain Campus Center for the blessing of the newly named Fr. Joseph A. Trovato, CSB Campus Ministry Center.
The weekend also marked the 50th anniversary for St. John Fisher's class of 1969. Among those celebrating their golden jubilee were Fathers Ted Baenziger, CSB and Ed Heidt, CSB and former Basilian scholastics, Brian Hogan, Mike O'Shancey, and Mike Piehler.
Read St. John Fisher College's 'Campus Ministry Center Named in Honor of Fr. Trovato'
Photos provided by St. John Fisher College and Brian Hogan.