Padres Basilianos Retreat
June 28, 2019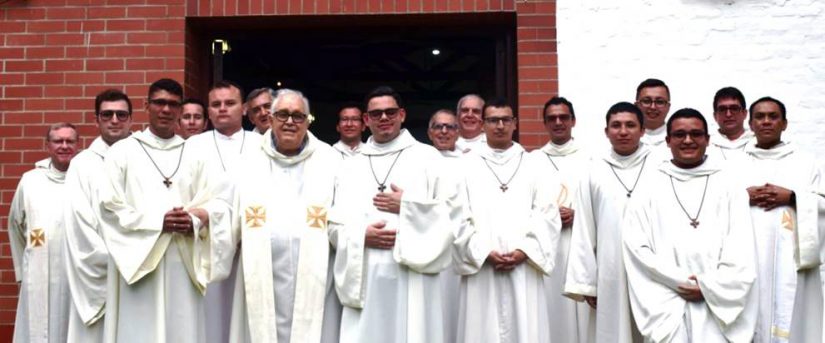 From June 16 through June 22 the Basilian Fathers in Colombia held their annual retreat at Casa Villa Asís, a Franciscan Retreat House in Jamundí a town in the Valle de Cauca.
The retreat director for the Basilians was Father Federico Carrasquilla of the Archdiocese of Medellín. He holds degrees from the Gregorian University in Rome and Louvain in Belgium. He taught in the Archdiocesan Seminary in Medellín and in the Pontifical Bolivarian University. For many years he has served as pastor of the Barrio Popular, a very poor area in Medellín. He accompanies the poorest inhabitants of the city and his goal is to help them regain their dignity and their identity. The theme of the Basilian retreat was "Recreating the Primacy of Jesus in Today's World."
First row: Novice Osman De La Hoz, Father Federico Carrasquilla (preacher), Novice Marlon Rincón, and Novice Wilmer Vargas.   
Second row: Brother Luis Suárez CSB, Brother Wilson Tovar CSB, Brother Edilson Gómez CSB, and Brother Anderson Úsuga CSB.
Third Row: Father Robert Barringer CSB, Deacon Eduard Padilla CSB, Father Rafael Lopera CSB, Father Carlos Gutiérrez CSB, Father Robert Seguin CSB, Father Francisco Amico CSB, Deacon Carlos Rodríguez CSB, Deacon Javier Higuera CSB, Father Óscar Gómez CSB, and Father Pedro Mora CSB.