Eduardo Rivera, CSB Ordained to the Diaconate
May 22, 2019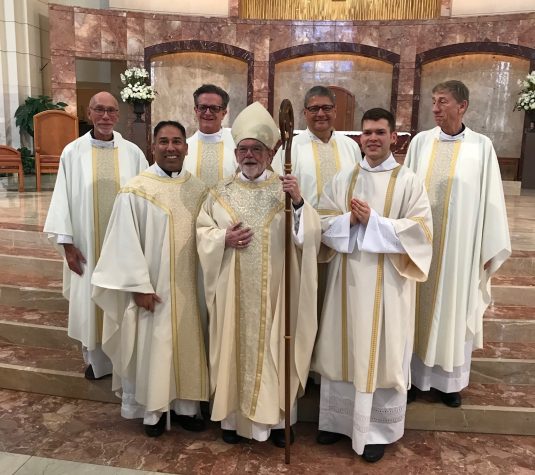 Eduardo Rivera, CSB professed his final vows to Father Kevin Storey, CSB, Superior General of the Basilian Fathers, in the Chapel of St. Basil at the University of St. Thomas in Houston, TX on May 17, 2019. He was ordained to the Diaconate with the laying on of hands by Bishop George Sheltz, Auxiliary Bishop of the Archdiocese of Galveston-Houston on May 18, 2019 at the Co-Cathedral of the Sacred Heart in Houston, TX.
Many Basilians from the Houston area and beyond, as well as many members of his family and friends, attended both liturgies. The following day, Deacon Rivera preached at the morning Mass in the Chapel of St. Basil at the University of St. Thomas and at the evening Mass in his home parish of St. Rose of Lima.
As a scholastic, Eduardo taught religious education classes for children at St. Anne's parish, and was the coordinator of spiritual life at St. Michael's College School. He also helped facilitate student retreats at the University of St. Thomas, and was a strength and conditioning coach at St. Thomas High School. He will receive his Master of Divinity from St. Mary's Seminary and anticipates graduating in May 2020.
"I am very excited about my final vows and ordination as deacon. It seems like my time with the community only began recently. What I recall the most when I think of these celebrations is the countless people who are praying for me and who have supported me through my years of formation," he said.
As a deacon, Eduardo will be participating in ministry at St. Anne's parish in Houston, TX. He will be involved with preaching, sharing in the sacramental life of the parish, working with the RCIA program, and participating in marriage preparations.
"I have come to understand that Basilian formation is an ongoing process that does not end with ordination. Our formation occurs not only in the classroom, but also at the dinner table and in our everyday conversations with each other. Everything that has brought me to this point is by the grace of God and the support of my confrères. Basilians not only teach goodness, discipline, and knowledge, they live it as well," Eduardo said.