Basilians Honoured by University of Toronto
May 3, 2019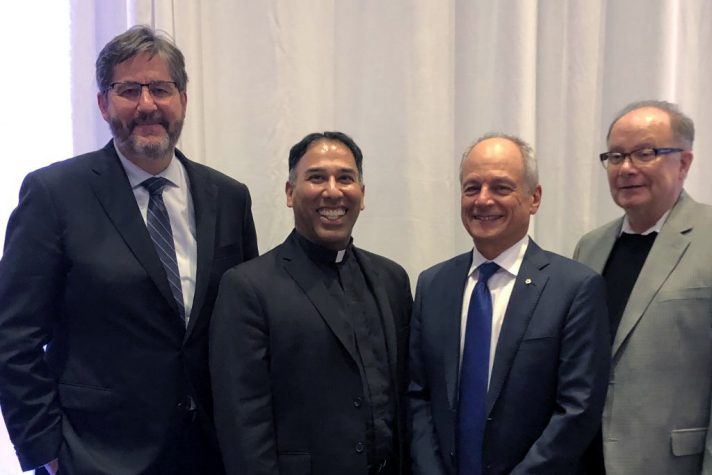 The University of Toronto celebrated their donors past and present at their Chancellors Circle of Benefactors Dinner on May 1, 2019.  Father Kevin Storey, CSB, Superior General of the Basilian Fathers, Father T. Allan Smith, CSB and Dr. David Sylvester, President of the University of St. Michael's College (USMC), attended the dinner to represent the Basilians and Faculty of Theology.
U of T President, Meric Gertler, recognized The Congregation of St. Basil as one of the five new members of the Chancellors Circle of Benefactors.  Members of the Chancellors' Circle of Benefactors are part of a group of extraordinary citizens stretching back to the earliest days of the city and country. Together with friends of the University from around the world, they have steadily built the University of Toronto into one of the world's finest universities.
The Congregation of St Basil's spiritual, scholarly and philanthropic contributions to the University of St Michael's College are immeasurable, dating back to the very founding of the College by the Basilian Fathers in 1852, and extending through their decades of service as professors, mentors and administrators, and their leadership as advocates for St. Michael's federation with the University of Toronto. The Basilian Fathers' contributions continue to this day with their loyal giving in support of chaplaincy and student aid, their multi-million dollar donations for endowed professorships in the Faculty of Theology and their creation of the Basilian Chair in Christianity, Arts, and Letters.
The names of Chancellors' Circle members are engraved in stone and displayed within the University's historic Simcoe Hall, which stands at the heart of the St. George campus. This permanent installation recognizes the significant contributions made by these institutional champions and city builders.
The theme throughout the evening was the impact of the University of Toronto's recent Boundless campaign, which concluded on December 31, 2018. It was with the Basilian Father's three million dollar pledge to the Faculty of Theology that USMC reached their Boundless community goal of raising $50 million.
Learn more about the Chancellors Circle of Benefactors