Order of St. Michael Induction Ceremony Honours Community Members and School's 165-Year Legacy
June 11, 2018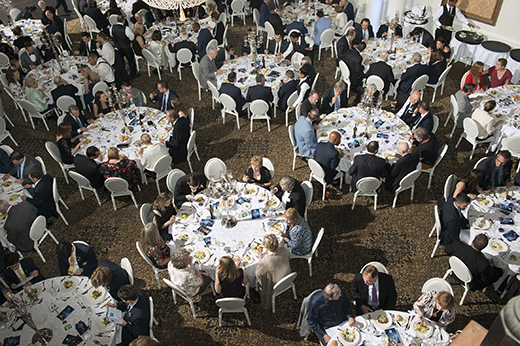 On Wednesday, May 30, over 450 members of the St. Michael's College School community gathered at the Liberty Grand in Toronto, Ontario to honour and officially induct the six newest members into the Order of St. Michael.
Hon. Consiglio Di Nino, Jerry Howarth, David Keon, Regis Quinn, Armand Scaini, and Hon. Justice Bryan Shaughnessy, were awarded with the highest honour that St. Michael's College School can bestow upon a community member, and joined a group of over 40 existing members dating back to 1996 when the Order was founded.
Leo Rautins was the evening's emcee and as he welcomed each new inductee up to the stage they were honoured with a commemorative plaque that had been blessed by Father Jefferson Thompson, CSB, the school's president. Individual tribute videos celebrating the achievements and contributions of each of the six inductees were a highlight of the Induction Ceremony.
The evening was also significant as it highlighted the school's 165th anniversary and provided the opportunity to celebrate the school's humble beginnings. The early Basilians undertook many risks in coming to Toronto, but their ministry thrived under the leadership of Father Jean-Mathieu Soulerin, CSB, who served as the founding superior of St. Michael's College. In his toast, Father Thompson paid tribute to the first St. Michael's Man, "Father Soulerin led the Basilian Fathers in their faithful work of education and evangelization, being for them a beacon and a bedrock of commitment, perseverance, and devotion," said Father Thompson.