Steven Huber, CSB Ordained to the Diaconate
May 16, 2018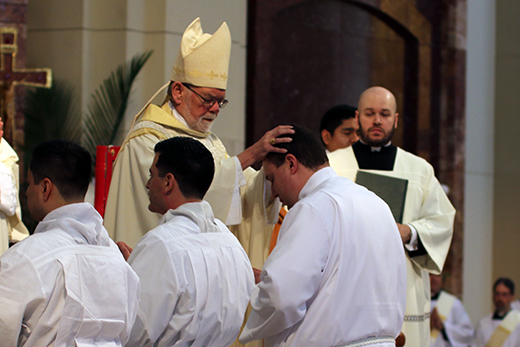 Steven Huber, CSB received the Holy Order of Deacon with the laying on of hands by Bishop George A. Sheltz, Auxiliary Bishop of the Archdiocese of Galveston-Houston, on Saturday, May 12, in the Co-Cathedral of the Sacred Heart in Houston, Texas. To witness this important step in a Basilian's formation journey were members of his family, including his parents, brothers, sister-in-law, and niece and nephew; Monsignor Bennett Voorhies, the pastor of his home parish, Our Lady of the Annunciation in Albuquerque, New Mexico; and Basilian Fathers and Basilian Lay Associates of the Houston Area. The following day, Deacon Huber read the Gospel and preached in the Chapel of St. Basil at the University of St. Thomas.
As a scholastic, he was involved in the music ministry at the Chapel of St. Basil, the Archdiocesan Choir, and the youth ministry at St. Anne Catholic Community. He also helped with the music at the youth Mass and gave several presentations to the confirmation classes on various topics, including vocations, the Saints, and how to live out the faith in daily life. He will receive his Master of Divinity from St. Mary's Seminary at the University of St. Thomas on Saturday, May 19.
"For me, this step marks a major transition in my life as a Basilian. To this point, my primary focus has been my studies. Now, my primary focus will be to minister to the People of God, and to assist the priest during the celebration of the Eucharist," he said.
As a deacon, he will serve at Assumption Catholic Parish in Windsor, Ontario in preparation for his presbyteral ordination. There he will be able to work and observe the pastoral ministry of Father Maurice Restivo, CSB and Deacon Paul Bezaire.
"I am looking forward to the experience of living in a new country and broadening my experience of the world and of the Church. In my previous visits to Windsor, I have found the Assumption Parish community to be very warm and welcoming. I look forward to getting to know the members of the parish better as I minister to them in the coming year," he said.