Fr. Richard Elmer, CSB Shares 90th Birthday Celebrations with Alma Mater, Detroit Catholic Central
May 16, 2018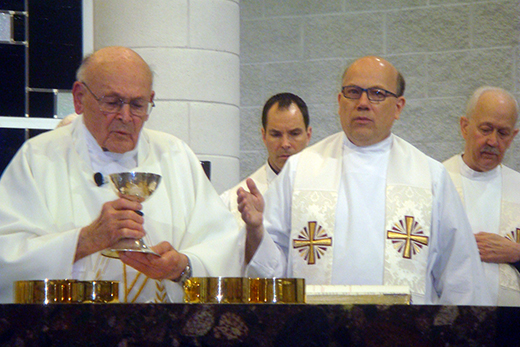 On Saturday, May 12, Father Richard Elmer, CSB shared his 90th birthday celebrations with the school that had a profound impact on his life. Over 500 Catholic Central families, alumni, and friends gathered for the 90/90 celebrations of Detroit Catholic Central's anniversary and Father Elmer's, president emeritus, birthday held at Catholic Central in Novi, Michigan.
The evening began with a Mass held in the Chapel, celebrated by Father Elmer and concelebrated by the Basilian Fathers of Novi, with overflow seating connected by a livestream to the cafeteria. After Mass, guests moved to the Robert Santello '58 Gymnasium, where the Mothers' Club turned the gym into a gorgeous setting worthy of the celebration. Ed Turek, a 1985 graduate, and Catholic Central president, Father John Huber, CSB, welcomed the crowd and introduced Father Elmer, who lit up the room with his traditional charm, humor, humility, and grace. Rick Brown from the CC Glee Club led everyone in the singing of "Happy Birthday" as well as a remixed version of "Elmer's Tune" before the evening turned to music and dessert.
The school was founded in 1928 when Monsignor Van Antwerp, the Vicar-General of the Diocese of Detroit and pastor of Holy Rosary Church on Woodward Avenue, made known his plan to convert his parochial high school into a boys' high school and requested that the Basilian Fathers take charge of the new central high school. That same year, Richard Elmer was born and he would graduate from the high school in 1946. Over seven decades he served the school in a variety of ways, including student council president, teacher and counselor, vice principal and principal, athletic director, and director of alumni relations & development before being named the school's first president in 2000. He led the Live & Die for CC High campaign, acquired land and solicited funding, which secured the school's future.
Read article in Oakland Press, 'Priest shares 90th birthday with Catholic Central at Mass, party'.