Our Lady of Guadalupe Celebrated at St. John Fisher College
December 19, 2017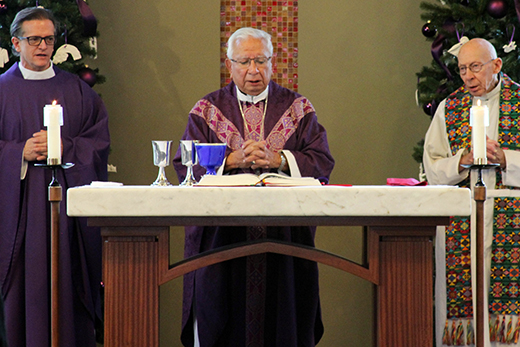 As per the late Father Leo Hetzler, CSB's wishes, Our Lady of Guadalupe came to the Chapel at St. John Fisher College in Rochester, New York. The Basilian Fathers of St. John Fisher College commissioned a painting by iconographer Minhhang K. Huynh in honour of the beloved English professor to hang in the Hermance Family Chapel of St. Basil the Great.  The occasion was marked by a Mass celebrated by Bishop Ricardo Ramírez, CSB, Bishop Emeritus of the Diocese of Las Cruces, New Mexico, on Sunday, December 10, two days before the feast day of Our Lady of Guadalupe.
The Mass was followed by a dedication of the painting that will hang in the Chapel's narthex near the door so that she would "greet" visitors as they enter the Chapel. The painting is located near a stained glass window of Our Lady's husband, St. Joseph. That window was chosen to honour SJFC's first campus minister, Father Joseph Trovato, CSB and most recent one, Father Joseph Lanzalaco, CSB, as well as Father Joseph Dorsey, CSB and the Sisters of St. Joseph of Rochester. In the dedication, Father Kevin Mannara, CSB, who currently serves as SJFC campus minister, recalled how each time he visited his confrère, Father Leo would ask if Our Lady of Guadalupe was coming to the SJFC Chapel. She is a significant figure for the Congregation as the Blessed Virgin Mary is one of the Congregation of St. Basil's patrons and the patroness of the Basilian Missions under the title of Our Lady of Guadalupe. Father Leo Hetzler served the College from 1959 until his retirement in 1994. He passed away on May 18 at the age of 91.
Following the dedication, Bishop Ramírez and Dr. Timothy Matovina delivered a lecture on "Power, Piety and Periphery: Guadalupe and Juan Diego in the New World." In the lecture, Bishop Ramírez spoke about the historical context of the apparitions and shared his family's devotion to Our Lady of Guadalupe and his recollection of his act of faith in his early childhood, a faith which had its source in that devotion. Dr. Matovina asked, "given the plentiful miraculous images of Christ, Mary, and the saints that dotted the sacred landscape of colonial Mexico, how did the Guadalupe cult rise above all others and emerge from a local devotion to become a regional, national, and then international phenomenon?" He is co-director of the Institute for Latino Studies and professor of theology at the University of Notre Dame, where he also serves as chair of the History of Christianity in the Department of Theology.