Keon House Brings Together Basilians who Minister in Houston Under One Roof
October 6, 2017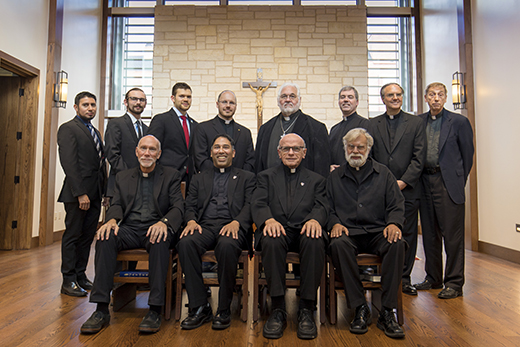 The Keon House community in Houston, Texas has welcomed many new residents over the summer to create one of the largest and youngest houses in the Congregation. Currently seven priests live in the priests' residence. The Basilian scholasticate is located in the north wing and houses three associates, three scholastics and three priests. These two communities brought together under one roof are working towards establishing a common identity as one home, while maintaining the distinct characteristics of each community.
"Being around so many individuals who are close to each other in the formation process is extremely important. As we get to know each other better over time I think we will come to better know and understand ourselves," said Sean Ajluni, a Basilian associate who now lives in Keon House after living in community at St. Kateri Parish and Frassati House.
This arrangement also gives the Basilian men in formation the opportunity to live side-by-side with priests who minister at St. Thomas High School and the University of St. Thomas and witness and participate in community life.
The Basilian Way of Life is expressed in many ways throughout the home including morning prayer together at 7 a.m., and evening prayer at 5:45 p.m. followed by dinner. Both houses share the dining room and chapel. The latter is Father Richard Wahl, CSB's favourite feature of the house, "It is simple, but very prayerful. It has a high ceiling with dark wood floor and beams on the side and ceiling, complemented by its furnishings. It is very appropriate for a male community," he said.
The large community space allows Keon House residents to welcome members of the local community into their home. The Basilians have hosted a vocation discernment retreat for men interested in religious life in March 2017 and a dinner for the student leaders of the University of St. Thomas at the beginning of the semester. The residents are also looking forward to hosting the Basilian Lay Associates of Houston Area.
Keon House is located at the edge of the University of St. Thomas campus and named in honour of the late Father James Keon, CSB, a long time Philosophy professor at the University who was deeply loved by the campus community.