Blue Scarf Peace Walk Promotes Peace and Unity
October 3, 2017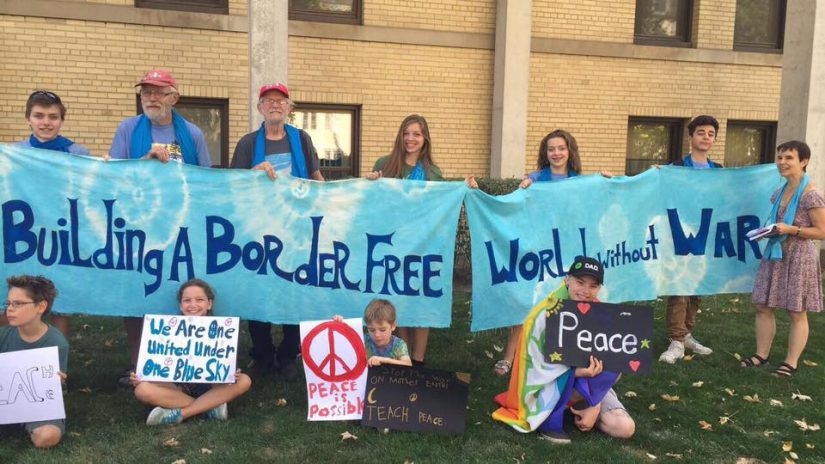 On Saturday, September 23, three organizations affiliated with the Basilian Centre for Peace and Justice raised awareness for a variety of social justice issues through a Blue Scarf Peace Walk. Approximately 40 people, including youth from Camp Micah and Regis College, participated in the walk in Toronto, Ontario sponsored by Camp Micah, Christian Peacemaker Teams, and Pax Christi.
The Blue Scarf Movement began in 2008 when a group of women wearing blue scarves gathered in war-torn Kandahar to publicly pray for peace and justice in Afghanistan. The movement continued to grow and today the symbol of the Blue Scarf is used all over the world. In solidarity with this movement, participants wore blue scarves and carried signs to promote peace and unity.
Stops with relevant topics along the walk included:
The first stop was at the American consulate, where participants reflected on the futility of war and nuclear arms.
At Regis College, a friend of the organizers who is homeless spoke about his experiences of isolation, poverty, and exclusion. He reminded participants of Matthew's gospel and their responsibility to care for one another, especially the most vulnerable and those who have no voice.
At Queen's Park, the group sat at under the shade of birch, maple, and butternut trees while Father Bob Holmes, CSB spoke of the incredible beauty of the earth and the universe and our responsibility to care for our common home.
Near Soldiers Tower on the University of Toronto campus, Carolyn Sue Kralik spoke about White Poppies for Peace and the rejection of the 'just war' theory by Pope Francis and the Catholic Nonviolence Initiative.
The group gathered at the stone Amphitheatre, north of Harbord Street, in the centre of Philosopher's Walk to reflect on its significance as an Indigenous people's gathering place by the river, now buried due to urban expansion. This shed light on the injustices of colonialism and importance of listening to the leadership of Indigenous voices in Canada.
The walk concluded with the stop along Philosopher's Walk where 14 trees were planted to commemorate the 14 young women who were killed by a gunman at École Polytechnique in Montreal, Quebec on December 6, 1989. More recently, in March 2017, red dresses were displayed here as a representation of the Indigenous women and girls lost to violent crime. Shannon Neufeldt of KAIROS, spoke to everyone of the importance of fulfilling the 94 recommendations of the Truth and Reconciliation Commission.