St. Michael's College School Welcomes Bishop Robert Kasun, CSB
October 2, 2017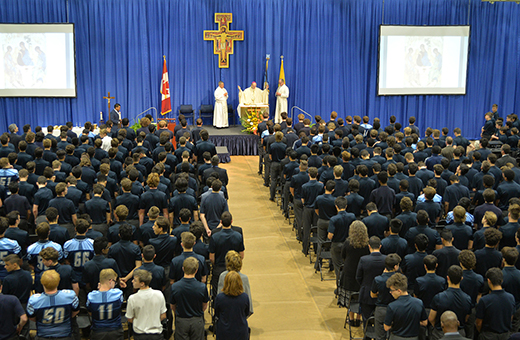 St. Michael's College School was deeply honoured to welcome Bishop Robert Kasun, CSB back to St. Mike's as it celebrated the feast of  its patron saint, St. Michael the Archangel, on September 29. Bishop Kasun celebrated the Eucharist with the whole school community in a liturgy that included the school's annual recommitment to its mission and vision. This special day also marked the school's 165th birthday.
It was a happy homecoming for the Bishop who, as Father Bob Kasun, CSB, had spent his longest appointment in the teaching ministry of Basilian schools at St. Mike's (1980-1987), during which time he taught in the English and Religion departments, serving also as the head of the latter, and further devoted himself to his students in the debating and public speaking programmes, and as advisor, Latin advisor, and moderator of the Student Government.
St. Michael's College School community and the Basilian Fathers offer their gratitude and prayers to Bishop Kasun as he continues his shepherd ministry as Auxiliary Bishop in the Archdiocese of Toronto.