Basilian Scholastics Attend Los Angeles Religious Education Congress
March 3, 2017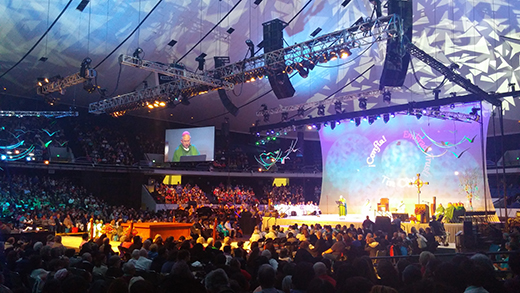 For the third year, Basilian scholastics had the opportunity to participate in the largest annual gathering of Catholics in the United States. Basilian scholastics, Oscar Carbajal Garcia, CSB, Steven Huber, CSB, and Kevin Mannara, CSB along with the Fr. Dave Bittner, CSB, director of scholastics, joined over 45,000 Catholics who attended the Los Angeles Religious Education Congress in Anaheim, California from February 24-26.
The conference included 300 workshops by 200 presenters, plus a large exhibit hall, various liturgies, and many cultural opportunities. The scholastics attended a number of workshops including "Fear: the Enemy of Christian Discipleship" and "Franciscan Spirituality of Creation" by Fr. Daniel Horan, OFM; "Catechists, Apologists, Evangelists…Wake up!" by Bishop Robert Barron; "A Word That Will Rouse Them" by Fr. Ed Foley, OFM Cap.; "The Denial of Death and Dying With Christ" by Fr. Richard Fragomeni; "Do Not Be Afraid" by Fr. Felix Just; and several relating to youth and young adult ministry. There was a concert by David Haas, Marty Haugen and Michael Joncas. A magnificent liturgy with Archbishop Jose Gomez closed the Congress.
The group also managed a trip to downtown Los Angeles to tour Our Lady of the Angels Cathedral, with a stop in Hollywood to see preparations for the Academy Awards.